The 6 Fireballs
Gone Hepsville
In 2013 we started another project of the same of us six musicians with one difference. The repertoire consists not of the old hits tested by more than fifty years of time but of purely new, our own songs. This is what our new band does under the name of GONE HEPSVILLE.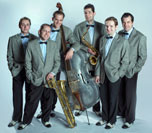 The lineup of GONE HEPSVILLE is the same as that of The 6 Fireballs and The 6 Fireballs carry on without any changes. We released two albums on the german Rhythm Bomb Label - Lotsa Rhythm (2014) a Gimme! (2018).
We'd be happy to bring you good music even in this new field of our work. Visit us on www.gonehepsville.com, facebook www.facebook.com/GoneHepsville or check our artist profile on Rhythm Bomb Records
Now you better get going, because everyone else has already gone. GONE HEPSVILLE.